Autumn is a full-time freelance writer based in the Pacific Northwest. Their love of coffee continues to grow through writing, having once been a barista at Portland's best kept secret TOV, as well as west coast fave DUTCH BROS.
What can I say about decaf coffee? It may get some hate, but it's a necessary cup of coffee. Whether it is for health reasons, pregnancy, or just personal preference, there can be a lot to love about a good decaf brew!
If you're cutting down on caffeine without wanting to sacrifice your love for coffee, you have to look for delicious decaffeinated coffee. Fortunately, we have our list of the best decaf coffee beans to satisfy your coffee cravings, without the caffeine!
Keep in mind that all of these products are sold as whole beans for freshness. If you are looking for ground coffee, I would suggest going to your local grocers. Or, better yet, look at purchasing an amazing coffee grinder from our curated list, if you're a coffee lover like me.
Oh, and if you are looking for Organic decaf beyond the blends found on this list, read this: Best Organic Decaf Coffee.
---
9 Best Decaf Coffee Beans
Key Features
Dark roast decaf whole Arabica beans
Swiss water process
Central and South American origin
USDA organic
Fair Trade certified
Kosher certified
Roasted in the Canadian Rocky Mountains
This Kicking Horse Decaf has a deep dark taste with a mellow finish, perfect for you, coffee drinker! The deep chocolate and nutty aroma will keep you from missing caffeinated coffee, for sure.
Not only does it taste good, it's also multi-certified by reputable 3rd party organizations. Therefore, you're guaranteed a high-quality cup of coffee.
This Kicking Horse coffee underwent a Swiss Water decaffeination process. More on that later!
Pros:
Multi-certified
Chemical-free decaffeination method
Complex but balanced flavors
Organic
Strong flavor with a mellow finish
Perfect for various brew methods
Cons:
Final Verdict
These Kicking Horse Dark Roast Decaf beans are excellent for those who love delicious coffee without the bitter aftertaste, but keep in mind the price of this one.
---
Key Features
Medium-dark roast decaf Arabica whole beans
Originated from Colombian coffee plantation
Roasted in small batches
GMO-free
Swiss water process
Complex citrus notes with a nutty finish
If you want strong coffee with a pleasant finish, this Don Pablo Medium-Dark Roast should satisfy your cravings. This coffee is baked in small batches to produce its citrus and nutty flavors without a burnt coffee taste.
This Don Pablo coffee is delicately washed using the Swiss Water process, just like our last bag of beans.
This coffee is ideal for various brewing methods such as regular coffee, French press, and cold brew coffee. It's also guaranteed GMO-free, which is always a plus.
Pros:
Low on acid
Guaranteed no GMO content
Smooth clean finish
99.9% caffeine-free
Cons:
Too dark for some but preparation may make the difference
Final Verdict
If you want a relatively affordable decaf whole bean coffee, this medium-dark roast Don Pablo is a must-try!
---
Key Features
Whole Arabica coffee beans
Swiss Water Decaf process
Sustainably sourced
Rainforest Alliance-certified
Roasted and packed in Dubuque, Iowa
Kosher-certified
Roasted in small batches
Let's take a drive and bring nostalgia into your mornings with this Verena Street coffee. This decaf coffee is made from a top quality Arabica bean blend sourced from sustainable farming methods.
Most of the caffeine content is removed via my favorite Swiss Water process. This way, you're guaranteed safe and chemical-free coffee.
Verena Street Sunday Drive Decaf coffee is Kosher-certified by the Orthodox Union, which means that it's safe for those following a strict Kosher diet.
The company ensures that this coffee comes to your doorstep fresh, as the brand maintains a minimal inventory. The beans are roasted in small batches to ensure even roasting and to bring out delicate coffee flavors!
Pros:
Passed the Orthodox Union's kosher certification
Decaffeination method free from chemicals
Low-acid blend
Provides excellent value
Rich but has a mellow finish
Cons:
Not for those who want robust coffee.
Final Verdict
The creamy but mellow finish of this Verena Street Sunday Drive Decaf option is excellent for coffee lovers looking for a lighter flavor. Pop it in your coffee pods and keep things easy breezy!
---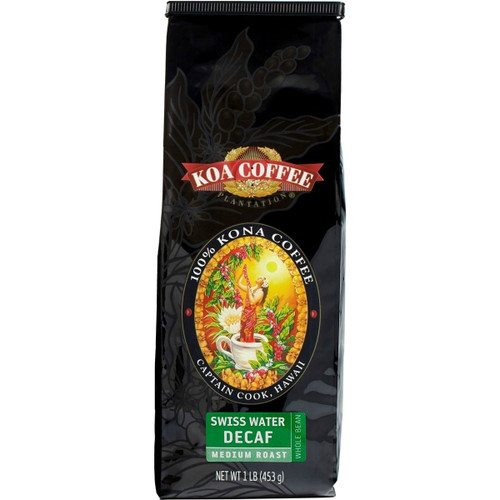 Key Features
Medium Roast Whole Arabica Bean
Sourced from Mauna Loa Volcano in Hawaii
Single-origin
Swiss Water Process decaffeination method
Famous for that Kona coffee taste
I'm a huge fan of the Koa coffee brand, so it would follow that I would enjoy the flavors of this Koa Decaf whole bean Kona Coffee. This coffee is sustainably grown in the slopes of the Mauna Loa Volcano, giving it a distinct taste.
Each coffee bean is roasted to perfection, making it one of the top coffee beans in the world. It's also decaffeinated using the Swiss Water process, which I know you're familiar with by now.
Pros:
Cons:
Final Verdict
This Decaf Kona Coffee may be too expensive for some coffee lovers, but this elite coffee product guarantees excellent value for money.
---
Key Features
Arabica coffee beans
Sustainably grown from Central America
Creamy, milk chocolate, and brown spice notes
USDA organic
Sourced from organic farms
These Organic Coffee Co. Gorilla Decaf beans are sourced from organic farms in Central America, and they are packed with flavor. You won't be missing your Peet's Coffee after this brew!
How could anyone resist the flavorful notes of creamy milk chocolate and brown spices? Moreover, it's ideal for people searching for a lighter roast decaf coffee.
Pros:
Complex and flavorful
Multi-certified
Organically grown
Excellent for different coffee brewing methods
Cons:
Final Verdict
This Gorilla Coffee Co. decaf choice is flavorful and lightly roasted. However, do keep in mind that it includes milk!
---
Key Features
Dark roast decaf coffee beans
Full-flavored coffee with notes of black cherry, dark chocolate, and molasses
Chemically-processed decaffeination method
Single-origin specialty
Although the Coffee Bean Direct Dark Penny Pincher decaf roast is sourced from various countries, it's still harvested from single-origin farms. If you're looking to cut caffeine out of your diet, this might be the coffee to get you through!
The flavors are fruity, sweet, and nutty. These coffee beans are excellent for people who are cutting down on caffeine, given their complex flavors aligning with espresso. Choose your favorite coffee maker and get that transition started!
Pros:
Single-origin, high-quality coffee beans
Great-tasting
Sourced from top quality farms
Excellent for budget-conscious coffee lovers
Cons:
Uses a chemical process for decaffeination
Final Verdict
Coffee Bean Direct decaf Penny Pincher's Dark Roast is great for that caffeine free transition period!
---
Key Features
Arabica coffee beans
Roasted in small batches
Water processed decaffeination
USDA organic
Fair Trade certified
The Peru-sourced Arabica coffee by Java Planet is organically grown by socially and environmentally responsible farmers.
Roasted in small batches, the Java Planet Organic Decaf ensures that each bean is evenly roasted to perfection. As a medium-roast coffee, you will enjoy coffee without a bitter or burnt taste.
The coffee beans underwent my favorite Swiss water decaf process as well!
Pros:
Chemical-free
Certified-organic
Ideal for any coffee brewer
Flavorful without the bitter finish
Cons:
Still acidic to some coffee drinkers
Final Verdict
Organic decaf coffee is often priced at a premium, but this Java Planet Organic Decaf seemed to be reasonably valued.
---
Key Features
Medium roast Arabica beans
Complex flavors with notes of jasmine, orange blossom, and caramel
Contains orange flavoring
Carbon dioxide decaffeination process
Illy has been recognized as the "World's Most Ethical Coffee". No matter the case, this is a complex and delicious flavored decaf coffee roast.
The Illy Decaf is made from the top 9 varieties of Arabica beans. Most coffee lovers would love the smooth and nutty flavor of this Illy product.
This Illy coffee is decaffeinated using a natural carbon dioxide roasting process.
Pros:
Smooth fruity and nutty notes
Made from select top varieties of beans
Supports environmentally and socially responsible farming
Pressurized packaging to ensure freshness of product
Cons:
Final Verdict
The Illy Decaf Whole Bean Coffee might be expensive to most coffee lovers, but the quality of taste justifies its value.
---
Key Features
100% Arabica coffee beans
Natural Water Process
Almond, chocolate, and sweet mandarin flavor
Sourced from Central America
Finally, an affordable decaf whole bean coffee by SF Bay that's not just healthy but great-tasting as well! Sourced from Central America, this SF Bay blend is a great compromise to Seattle's Best decaf Portside Blend.
This medium roast features a nutty and fruity smooth finish. You won't have to worry about a bitter cup here!
The coffee beans went through the natural water process of decaffeination, and it's also great for coffee lovers that are Kosher.
Pros:
Deliciously roasted for a perfect smooth and sweet finish
Affordable
Chemical-free decaf coffee
Cons:
Final Verdict
SF Bay has made an affordable and great tasting decaf blend!
Most Certified: Kicking Horse Decaf
Most Versatile: Don Pablo Medium-Dark Roast
Most Mellow Flavor: Verena Street Sunday Drive
Most Unique Notes: Koa Coffee
Best Light Roast: Gorilla Coffee Co. Decaf
Best for Caffeinated Coffee Drinkers: Coffee Bean Direct Decaf
Best Medium Roast: Java Planet Decaf
Most Luxurious Beans: Illy Decaf Roast
Best on a Budget: SF Bay Decaf
---
Buyers Guide for Decaf Coffee Beans
There isn't much to consider when shopping around for a prime cup of decaf; the hardest part will be choosing your brewing method. The list goes on and on for decaf just like regular coffee: do you want to brew some drip coffee, use a decaf K Cup, or soak some decaf cold brew coffee grounds overnight?
No matter the method, keeping these additional things in mind before you buy may help you discover a more flavorful and better-suited cup for you!
Types of Roast and Flavor
Different types of roasts affect how coffee tastes, whether or not it is caffeinated! All coffee begins as green coffee beans, but it doesn't stay green forever! Unroasted coffee bean transformations are necessary to make great decaf.
Light roast coffee is typically acidic with mellow and bright flavors. Medium roast coffee is slightly darker in color and is less acidic than the light roast bean. Dark roast is exactly what it sounds like, with the lowest acidity level and a deeper flavor, resulting in chocolatey aftertastes.
---
[mailpoet_form id="7″]
---
Decaffeination Process
Let's talk about the two most common decaffeinating processes found on this list of products!
Swiss Water Process
The Swiss Water Process involves decaffeination without the use of any solvent. Instead, the beans are soaked in boiling water to dissolve the caffeine.
The water used is then filtered using an activated charcoal filter. This filter captures the larger caffeine molecules while allowing the coffee oils and flavors to pass through.
The result is coffee beans without caffeine! The water saturated with oils will keep further batches of beans full of flavor, but free from caffeine. It is a very common decaffeination method, as you could no doubt guess.
Carbon Dioxide Process
The Carbon Dioxide decaffeination process is a newer method. In a stainless steel container, the coffee beans are soaked in water. The container is sealed while the liquid carbon dioxide is forced into the beans.
The process dissolves and draws caffeine out from the beans, leaving the larger flavor molecules behind. The carbon dioxide containing the extracted caffeine is transferred to another container where the pressure is released, leaving the caffeine behind.
The carbon dioxide is then reused for future batches. This makes it a cost-effective method for commercially-graded coffee sold in grocery stores.
Brewing Method/Grind
The brewing method for your decaf coffee beans doesn't matter so much as the grind does. Your decaf coffee is going to taste just as delicious and full-bodied as a caffeinated cup, but only if you get the grind correct!
Purchase a coffee grinder that best suits your primary brewing method. While there are grinders that work for multiple brewing styles, some grinders are best for certain methods, such as French press or espresso.
Keep this in mind when you are shopping for decaf whole beans. One blend may taste amazing as espresso, but it may not be as good for cold brew. It may take some experimenting, but owning a fantastic grinder can make all the difference for decaf!
---
So, What Decaf Coffee is Right for You?
Whether you're hunting for the darkest coffee roast possible, or something lighter with fruity notes, there's no doubt in my mind that the right decaf coffee for you is on this list.
There's nothing wrong with enjoying a cup of decaf, no matter what the haters say. Whether it is for health, personal, or professional reasons, you should feel confident about any of these decaf blends.
I have to say that this Kona Decaf Coffee suits me just fine, with its depth of flavor and rich notes. However, you may have your own preferences. Thankfully, there's a cup of decaf out there for all of you.
Happy brewing!
Pin Me!