Is going decaf good for your health? Well, cutting down on caffeine proves to be beneficial to one's health.
Caffeine is a stimulant known to increase heart rate and blood pressure. And in the long term, it can cause heart palpitations, several heart problems, and some mental health changes.
So, if you're cutting down on caffeine, without sacrificing your love for coffee, you have to look for the best decaf coffee beans to enjoy. Fortunately, we have our list of the best decaf coffee beans that could satisfy your coffee cravings, without the harmful side effects of caffeine.
Why don't you read on and let us help you find which decaf coffee would best fit your preferences?
Oh, and if you are looking for Organic decaf, read this: Best Organic Decaf Coffee.
---
11 Best Decaf Coffee Beans
Key Features
Dark roast decaf whole Arabica beans
Swiss water process
Central and South American origin
USDA organic
Fair Trade certified
Kosher certified
Roasted in Canadian rocky mountains
The Kicking Horse dark roast decaf whole Arabica beans have a deep dark taste with a mellow finish. The deep chocolate and nutty aroma would surely wake you up even in cold mornings.
It exhibits complex notes of roasted hazelnuts and chocolaty tastes. Why would anyone want to grab a pack of this Kicking Horse coffee?
It's because it doesn't only taste good, but it's also multi-certified by reputable 3rd party organizations. Therefore, one would be guaranteed to purchase high-quality coffee.
Kicking Horse coffee originated from Central and South America, where some of the highest quality of coffee are harvested. And you might also want to put into consideration that this coffee brand underwent Swiss Water decaffeination process.
Pros:
Multi-certified by various reputable 3rd party organizations
Chemical-free decaffeination process
Complex but balanced flavors
Organic
Strong flavor with a mellow finish
Perfect for various brew methods such as French press, pour-over, drip machine, cold brew, and espresso
Cons:
May not be affordable to some coffee lovers
Final Verdict
The Kicking Horse dark roast decaf whole bean coffee is excellent for those who love strong coffee taste without the bitter aftertaste.
---
Key Features
Medium-dark roast decaf Arabica whole beans
Originated from Colombian coffee plantation
Traditionally-roasted in small batches
GMO-free
Swiss water process decaffeination
Complex citrus notes with a nutty finish
If you want strong coffee with a pleasant finish, the Don Pablo medium-dark roast decaf whole beans would satisfy your cravings. This traditionally-roasted coffee was baked in small batches to slowly produce its citrus and nutty flavors without a burnt coffee taste.
This Don Pablo coffee is delicately washed using the Swiss Water Process. The method resulted in a 99.9% reduction in the coffee's caffeine content.
This coffee is ideal for various brewing method such as drip coffee, French press, and cold brew. It's also guaranteed GMO-free, so you'd be drinking mycotoxin-free coffee.
Pros:
Mycotoxin-free
Low on acid
Guaranteed no GMO content
Smooth clean finish
99.9% caffeine-free
Cons:
Too dark for some people but preparation may make the difference.
Final Verdict
If you want a relatively affordable decaf whole bean coffee, this medium-dark roast Don Pablo is a must-try, especially if you love a citrus note with a nutty finish.
---
Key Features
Whole Arabica coffee beans
Swiss Water Decaf Process
Sustainably sourced
Rainforest Alliance-certified
Roasted and packed at Dubuque, Iowa
Kosher-certified
Roasted in small batches
Bring nostalgia into your coffee drinking pleasure as you enjoy the full-body and aroma of Verena Street coffee. This coffee is made from top quality Arabica coffee beans sourced from sustainable farming methods.
Most of the caffeine content is removed via a chemical-free Swiss Water Decaf Process. This way, you're guaranteed safe and chemical-free coffee.
Verena Street Sunday Drive Decaf coffee is Kosher-certified by one of the most recognized kosher certifying organization, the Orthodox Union. This certification ensures that it's safe for those following a strict Kosher diet.
The company ensures that coffee comes to your doorstep fresh as the brand maintains minimum inventory. The beans are roasted in small batches to ensure even roasting and to bring out delicate coffee flavors.
Pros:
Passed the Orthodox Union's kosher certification
The chemical-free decaffeination method was used
Low-acid blend
Provides excellent value
Rich but has a mellow finish
Cons:
Not really for those who want robust coffee.
Final Verdict
The creamy but mellow finish of Verena Street Sunday Drive Decaf is excellent for coffee lovers craving to taste a non-robust type of coffee.
---
Key Features
Medium-dark roast whole Arabica bean
Certified organic
Decaffeinated using the Swiss Water Process
Non-GMO
Coffee harvested from Honduras
Product of Cafe Don Pablo
The Subtle Earth medium-dark roast decaf coffee bean is a specialty product of Cafe Don Pablo. The brand is popular for highly-rated coffee products.
This Subtle Earth coffee garnered various certifications from 3rd party organizations. It is certified organic by USDA, water processed-certified by Colombian Decaf, and non-GMO by CCOF.
This specialty coffee blend is excellent for coffee lovers who are health-conscious. Moreover, this coffee is for those who love a touch of roastiness with a sweet pleasant finish.
Pros:
All-natural Arabica whole coffee beans
Chemical-free decaffeination process
Excellent for health-conscious coffee lovers
Low acid coffee
Multiple certifications from reputable organizations
Cons:
Too oily for some coffee drinkers
Final Verdict
The Subtle Earth decaf Arabica whole bean coffee is simply a healthier option that doesn't lack in flavor.
---
Key Features
Medium roast Arabica decaf coffee beans
Kosher-certified
Single-origin varieties sourced from Latin America and South Africa
Eight O'Clock has been a popular brand with a very long history in the business. For over 150 years, the brand crafted Arabica coffee beans masterfully by experienced master roasters.
The brand ensures that every bit of bean is sourced from top quality plantations in Latin America and South Africa. The medium roast Arabica coffee beans feature a rich and smooth coffee without the caffeine.
This Eight O'Clock decaff coffee is perfect for coffee lovers who are into Kosher diet. Therefore, you can enjoy coffee without the guilt.
Pros:
Made from high-quality Arabica coffee beans
Ideal for kosher
Full body taste without the caffeine
Masterfully roasted
Ideal for coffee lovers who doesn't love the oil
Cons:
Not for coffee enthusiasts who love robust coffee
Final Verdict
If you want affordable decaf whole beans coffee, it's hard to miss this Eight O'Clock medium roast decaf whole beans.
---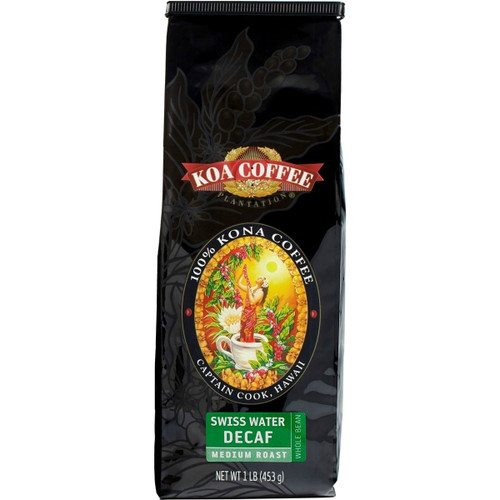 Swiss Water Decaf Whole Bean Kona Coffee – $55.00
from: Koa Coffee
Key Features
Medium Roast Whole Arabica Bean
Sourced from Mauna Loa Volcano in Hawaii
Single-origin
Decaffeinated coffee beans using the Swiss Water Process
Famous for the fine Aloha taste
If one would look for a unique coffee taste, the Swiss Water Decaf whole bean Kona Coffee has this exquisite Hawaiian flavor or famously known as the Aloha taste. This coffee is sustainably grown in the slopes of the Mauna Loa Volcano giving it a distinct taste.
Each coffee bean is masterfully roasted to perfection, making it one of the first-class coffee beans in the world. It's also decaffeinated using the Swiss Water process making it ideal for those who need to cut on the caffeine.
Pros:
Excellent value for your money
Full-flavored despite being decaf
Works well for straight decaf or mixed with caffeinated coffee
Distinct Hawaiian flavor
Cons:
Final Verdict
The Swiss Water Decaf whole bean Kona Coffee may be too expensive for some coffee lovers, but this elite coffee product guarantees excellent value for money.
---
Key Features
Light roast whole Arabica coffee beans
Sustainably grown from Central America
Creamy, milk chocolate, and brown spice notes
USDA organic
Kosher coffee beans
Sourced from organic farms
Decaffeinated
The Organic Coffee Co. Gorilla decaf whole coffee is made from lightly roasted Arabica variety. Each coffee bean is sourced from organic farms in Central America.
How could anyone resist the flavorful notes of creamy milk chocolate and brown spices? Moreover, it's ideal for people in Kosher diet.
Pros:
Complex and flavorful
Multi-certified
Organically grown
Quality coffee
Excellent for different coffee brewing methods
Cons:
The milk ingredient may not be ideal for some people with allergies.
Final Verdict
The Gorilla Coffee Co., decaf whole bean coffee, is a flavorful coffee ideal for a kosher diet. However, it's good to consider the milk ingredient, which can cause allergies to some people.
---
Key Features
Dark roast decaf coffee beans
Sourced from Brazil, Costa Rica, Kenya, Kona, and Sumatra
Full-flavored coffee with notes of black cherry, dark chocolate, and molasses
Chemically-processed decaffeination
Single-origin specialty
Although the Coffee Bean Direct decaf Dark Penny Pincher is sourced from various countries, it's still harvested from single-origin farms. The dark roast decaf coffee beans feature flavors of black cherry, dark choco, and molasses.
The flavors are somehow fruity, sweet, and nutty. This coffee beans are excellent for people who are cutting down on caffeine.
Pros:
Single-origin specialty guarantees high-quality coffee beans
Great-tasting decaf coffee
Sourced from top quality farms in countries known to produce the best coffee in the world
Excellent for budget-conscious coffee lovers
Cons:
Chemical process decaffeination may not be favorable for some health conscious coffee enthusiasts.
Final Verdict
Coffee Bean Direct decaf Penny Pincher's Dark Roast is blended for financial-savvy coffee lovers.
---
Key Features
Arabica coffee bean
Organically grown
Roasted in small batches
Water processed decaffeination
USDA organic
Fair Trade certified
Sourced from Peru
The Peru-sourced Arabica coffee by Java Planet is organically grown by socially and environmentally responsible farmers. Therefore, you are guaranteed to drink chemical-free coffee every day.
Roasted in small batches, the Java Planet Organic Decaf ensures that each bean is evenly roasted to perfection. As medium roast coffee, you will enjoy coffee without the bitter or burnt taste.
The coffee beans underwent Water Process of decaffeination. Therefore, no chemicals were used, but instead you only get health beneficial antioxidants.
Pros:
Chemical-free
Certified-organic
GMO-free
Ideal for any coffee brewer
Flavorful without the bitter finish
Cons:
Still acidic to some coffee drinkers
Final Verdict
Organic decaf coffee is often priced at a premium, but the Java Planet Organic Decaf seemed to be reasonably valued.
---
Key Features
Decaf medium roast Arabica beans
Made from the best nine varieties of Arabica coffee beans
Complex flavors with notes of jasmine, orange blossom, and caramel
Contains orange flavoring
Carbon dioxide decaffeination process
Illy has been recognized as World's Most Ethical Coffee. Therefore, when it comes to quality and integrity, anyone can be sure of Illy products.
The Illy Decaf Medium Roast whole bean coffee is made from the top 9 varieties of Arabica beans. Most coffee lovers would love the smooth fruity, and nutty flavor of this Illy product.
This Illy coffee is decaffeinated using the natural carbon dioxide process. It is also a chemical-free process like the Swiss Water method.
Pros:
Smooth fruity and nutty notes
Made from select top varieties of Arabica
Supports environmentally and socially responsible farming
Pressurized packaging to ensure freshness of product
Cons:
Final Verdict
The Illy Decaf Whole Bean Coffee might be expensive to most coffee lovers, but the quality of taste justifies its value.
---
Key Features
100% Arabica coffee beans
Natural Water Process decaf coffee
Kosher
Almond, chocolate, and sweet mandarin flavor blends
Sourced from Central America
Finally, an affordable decaf whole bean coffee by SF Bay that's not just healthy but great-tasting as well. Sourced from Central America, where some of the highest-quality coffee beans are harvested, SF Bay would guarantee anyone a top-quality coffee.
This medium roast whole coffee bean features a nutty and fruity smooth finish. Bitterness is out of the picture as you finish each cup, but only smoothness and sweet aftertaste.
The coffee beans went through natural water process of decaffeination, which ensures that each bag contains chemical-free Java. It's also great for coffee lovers that are into Kosher diet.
Pros:
Perfect for Kosher diet
Deliciously roasted for a perfect smooth and sweet finish
Affordable
Chemical-free decaf coffee
Cons:
Oily beans may not be suitable for some people and coffee grinder.
Final Verdict
SF Bay decaf medium roast coffee is simply an affordable way to enjoy great-tasting coffee.
---
Buyers Guide for Decaf Coffee Beans
Types of Roast and Flavor
Different types of roast affect how coffee would taste. Therefore, it's recommended to determine which type of roast works for your palette.
Light roast is typically acidic with mellow and bright flavors. It's not oily as well and has a vibrant fruity taste.
Medium roast coffee is slightly darker in color and is less acidic than the light roast bean. It has some oil and has this deep caramel sweetness finish.
The dark roast is dark brown and has a very oily surface. This type of roast has the lowest acidity level and a deeper flavor, which results in somewhat nutty, chocolatey, and has a sweet caramel aftertaste.
In short, the type of roast has something to do with the complex flavors produced. If you're into the vibrant fruity taste, the light roast should work for you.
If you love the mellow and bright complexity of coffee flavors, medium roast could be your perfect match. Finally, if you love that heavy-body and darker finish, the dark roast should be your ideal pick.
---
[mailpoet_form id="7″]
---
Decaffeination Process
We all choose decaf for a common reason, which is health. The first decaffeination process known as the Roselius process is no longer used today due to the health hazards posed by benzene.
The benzene solution used in the decaffeination process is known to cause cancer. That's why new decaffeination processes were introduced.
Today there are two main types of decaffeination processes, which are solvent-based and non-solvent based processes.
Solvent-based Processes
The solvent-based process involves two types of procedures, which are direct-solvent and indirect-solvent processes.
Direct-solvent Based Process
Direct-solvent based process involves steaming the coffee beans until their pores open. Once the beans are ready, they are introduced to a solvent known as methylene chloride or ethyl acetate and will be rinsed for 10 hours until caffeine contents are removed.
Typically, the more preferred solvent used is ethyl acetate. This process is more often known as the Natural decaffeination method or the Ethyl Acetate Method.
Indirect-solvent Based Process
On the other hand, the indirect-solvent based process involves using the same solvent types. However, instead of steaming the beans to open up their pores, they are soaked in near-boiling water for several hours.
When the beans are ready, they are washed with either methylene chloride or ethyl acetate. In this process, the molecules of the solvent and caffeine bond together.
To remove caffeine from the mixture, the beans are heated until the bonded molecules of the chemical and caffeine evaporate. To reabsorb the coffee oils and different flavor elements, the beans are reintroduced to the liquid.
Now let's talk about the non-solvent based processes.
Non-solvent Based Processes
The non-solvent based processes involve the Swiss Water Process and Carbon Dioxide Process.
Swiss Water Process
The Swiss Water Process involves decaffeination without the use of any solvent. Instead, the beans are soaked in boiling water to dissolve the caffeine.
The water used is then filtered using an activated charcoal filter. This filter captures the larger caffeine molecules while allowing the coffee oils and flavors to pass through.
The result is coffee beans without flavor and caffeine. These coffee beans are discarded, but the flavor and oil-infused water is reused for another batch of coffee beans.
There is no real magic with the process. The water saturated with oils and flavors will not allow the fresh batch of beans to dissolve their flavors but enable the caffeine to move with the water.
The result is flavor-rich coffee without caffeine. The Swiss Water Process is often used for the decaffeination of organic coffee.
Carbon Dioxide Process
The Carbon Dioxide Decaffeination process is the most recent method. It involves the use of liquid carbon dioxide.
In a stainless steel container, the coffee beans are soaked in water. The container is sealed while the liquid carbon dioxide is forced into the beans at 1000 pounds PSI pressure.
The process dissolves and draws caffeine out from the beans leaving the larger molecules of flavors behind. The carbon dioxide containing the extracted caffeine is transferred to another container where the pressure is released, leaving the caffeine behind as the carbon dioxide returns to its gaseous form.
The carbon dioxide is collected back into the pressurized container to be reused for another batch of beans.
The carbon dioxide decaffeination process is often used in commercially-graded coffee sold in grocery stores.
---
FAQ for Best Decaf Coffee Beans
What is the best decaf coffee beans?
Even the strictest coffee snobs will differ in tastes and preferences. Therefore, the best decaf coffee beans will depend on your personal coffee preference.
Which brand of decaf coffee has the least caffeine?
Decaf coffee doesn't mean it is completely caffeine-free, but the decaffeination process removes at least 97% of caffeine. Therefore, there's at least 7mg of caffeine still in every cup of Joe you drink.
Based on the decaf coffee brands that we reviewed, Don Pablo Colombian decaf has the least caffeine remaining. The brand claims its product has 99.9% of the caffeine removed from the Swiss Water decaffeination process.
Happy brewing!